7

R Markdown

When conducting research your end product is usually a Word Document or a PDF which reports on the research you've done, often including several graphs or tables. In many cases people do the data work in R, producing the graphs or numbers for the table, and then write up the results in Word or LaTeX. While this is a good system, there are significant drawbacks, mainly that if you change the graph or table you need to change it in R and change it in the report. If you only do this rarely it isn't much of a problem. However, doing so many times can increase both the amount of work and the likelihood of an error occurring from forgetting to change something or changing it incorrectly. We can avoid this issue by using R Markdown, R's way of writing a document and incorporating R code within.

This chapter will only briefly introduce R Markdown, for a comprehensive guide please see this excellent book. For a cheat sheet on R Markdown see here.

What R Markdown does is let you type exactly as you would in Microsoft Word and insert the code to make the table or graph in the places you want it. If you change the code, the document will have the up-to-date result already, reducing your workload. There is some additional formatting you have to do when using R Markdown but it is minimal and is well-worth the return on the effort. This book, for example, was made entirely using R Markdown.

I include this chapter early in the book - and likely before you are really comfortable with using R - since some new R programmers do like to do all of their work using this method. In my experience this is relatively rare, but I still wanted to make the info available for those that do. For new programmers I recommend reading this chapter so you understand R Markdown, but still use normal R scripts when writing code - don't use R Markdown for everything. Focus on learning how to write good code before adding the complexity of writing full documents using R Markdown.

To open up an R Markdown file click File from the top menu, then New File, and then R Markdown…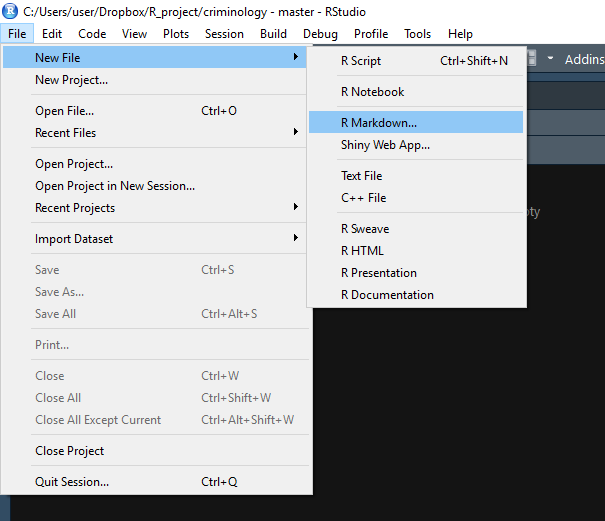 From here it'll open up a window where you select the title, author, and type of output. You can always change all three of these selections right in the R Markdown file after making your selection here. Selecting PDF may require you to download additional software to get it to output - some operating systems may already have the software installed. For a nice guide to making PDFs with R Markdown, see here.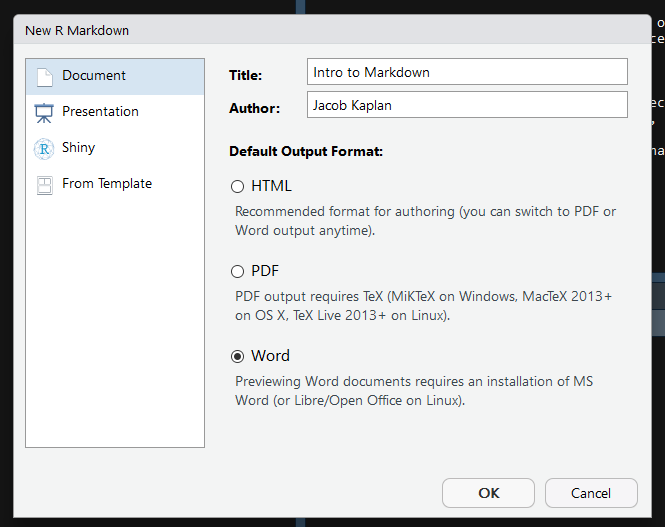 When you click OK, it will open a new R Markdown file that is already populated with example text and code. You can delete this entirely or modify it as needed.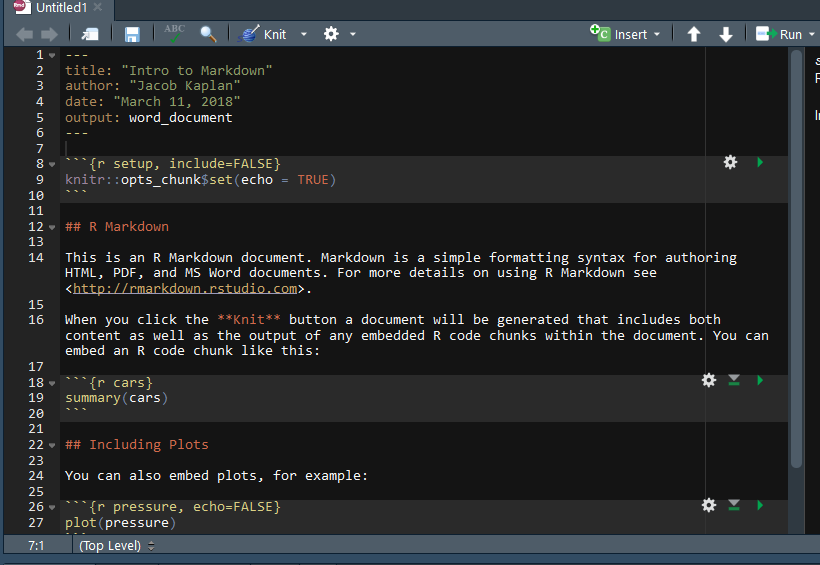 When you output that file as a PDF it will look like the image below.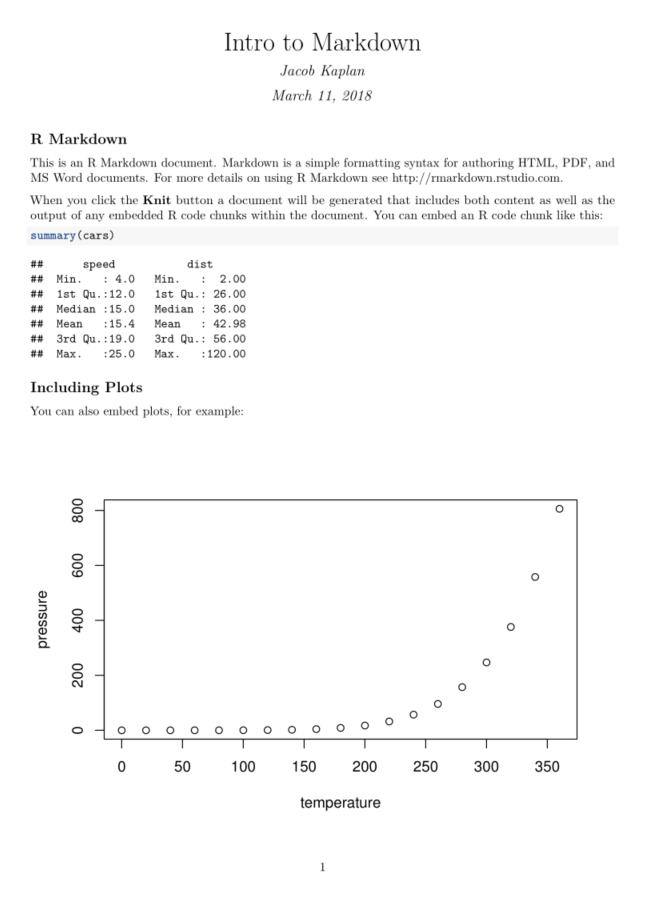 R converted the file into a PDF, running the code and using the formatting specified. In an R Script a # means that the line is a comment. In an R Markdown file, the # signifies that the line is a section header. There are 6 possible headers, made by combining the # together - a # is the largest header while ###### is the smallest header. As with comments, they must be at the beginning of a line.
The word "Knit" was surrounded by two asterisks * in the R Markdown file and became bold in the PDF because that is how R Markdown sets bolding - to make something italics using a single asterisks like this. If you're interested in more advanced formatting please see the book or cheat sheet linked earlier.
Other than the section headers, most of what you do in R Markdown is exactly the same as in Word. You can write text as you would normally and it will look exactly as you write it.
References
Jain, Harish C, Parbudyal Singh, and Carol Agocs. 2000.
"Recruitment, Selection and Promotion of Visible-Minority and

A

boriginal Police Officers in Selected

C

anadian Police Services."
Canadian Public Administration
43 (1): 46–74.
Reaves, Brian. 1993.
Using

NIBRS

Data to Analyze Violent Crime
. US Department of Justice, Office of Justice Programs, Bureau of Justice.
---
This is an example of a footnote.↩︎